President Ilham Aliyev received Executive Director of Joint United Nations Programme on HIV/AIDS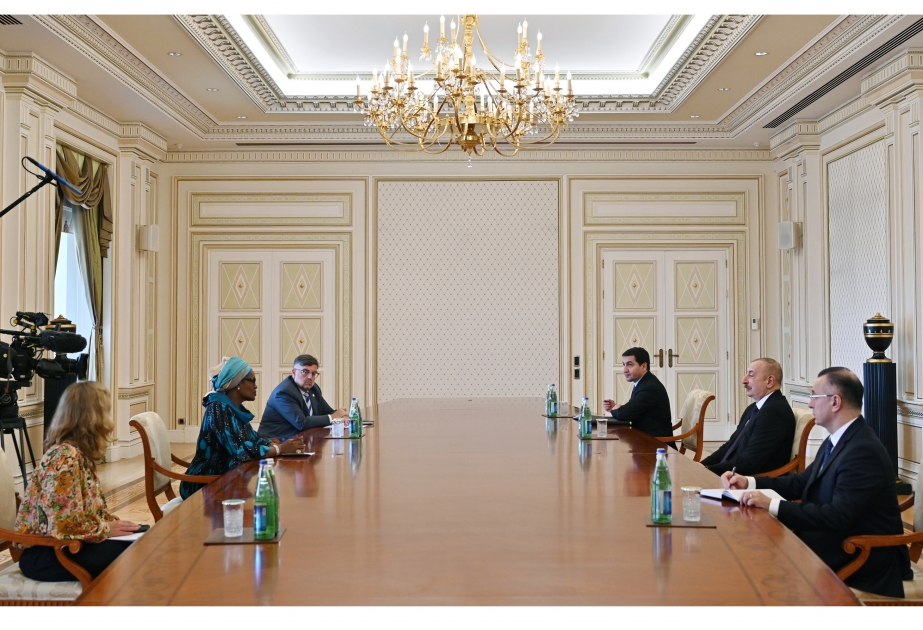 President of the Republic of Azerbaijan Ilham Aliyev has received Executive Director of the Joint United Nations Programme on HIV/AIDS (UNAIDS) Winnie Byanyima.
Winnie Byanyima said she is happy to participate in the 10th Global Baku Forum, and lauded excellent organization of the event. She described establishment of the Nizami Ganjavi International Center as a very important initiative, and underlined that this institution's prestige had risen globally.
President Ilham Aliyev noted that the Nizami Ganjavi International Center had first started operating in the ancient city of Ganja, motherland of genius poet of Azerbaijan Nizami Ganjavi, adding the Center had developed in later years, and this year Azerbaijan already hosted the 10th Global Baku Forum.
Winnie Byanyima congratulated the head of state, as a chair of the Non-Aligned Movement, for successful activity and excellent organization of the Summit-level Meeting of Non-Aligned Movement Contact Group in response to COVID-19 in Baku, saying this Movement plays an important role in contemporary international relations.
The Executive Director praised Azerbaijan's healthcare successes including the fight against infectious diseases and AIDS, which helped gain serious achievements in fulfilling sustainable development goals in this respect. She asked for Azerbaijan's support in the projects the UNAIDS is to implement in the African continent and other countries.
The head of state said over a million Azerbaijanis were forced from their homes by Armenian aggression during the first years of the country's independence and that they live in tent cities. President Ilham Aliyev noted Azerbaijan's economic situation had been at a low level back then and the country had faced serious difficulties, adding international organizations provided support to Azerbaijan at that point in time. President Ilham Aliyev underlined that Azerbaijan had contributed to aid programs at an international level, thus, growing into the donor country. The head of state noted that Azerbaijan cooperates closely with and supports respective UN agencies.